I love Yelp.
Not only do I love Yelp for personal reasons like discovering new restaurants and local small businesses in my hometown or wherever I may be traveling, but I also love Yelp for my business.  The Creative Stack loves Yelp!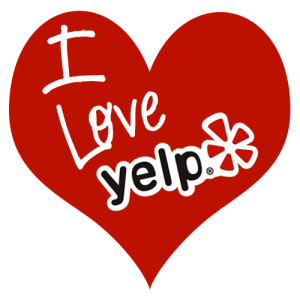 I started "yelping" about two years ago when I went to sign up for a free listing for my business on Yelp.   Yelp is a great free online business directory that indexes well on search engines.  So, adding a Yelp listing for your local business will help your online presence.  And we all know how important online presence is for local business!
Now, if you haven't ever added your business to Yelp, chances are it is already on there waiting for you to claim it.  This is important to do, so that you can make sure that all of the business information is up to date.  You don't want a wrong phone number popping up on Yelp – you are missing out on valuable business if this is the case!
Once you claim your business listing (or add one if not already listed), then you should update the profile with your business logo and photos from the business. Also be sure to add a link to your website, list business specialties, business history, add a business description, etc.  Beef up your Yelp profile so that people searching for your kind of business will pay attention when they come across your Yelp page.  Here is what my page looks like….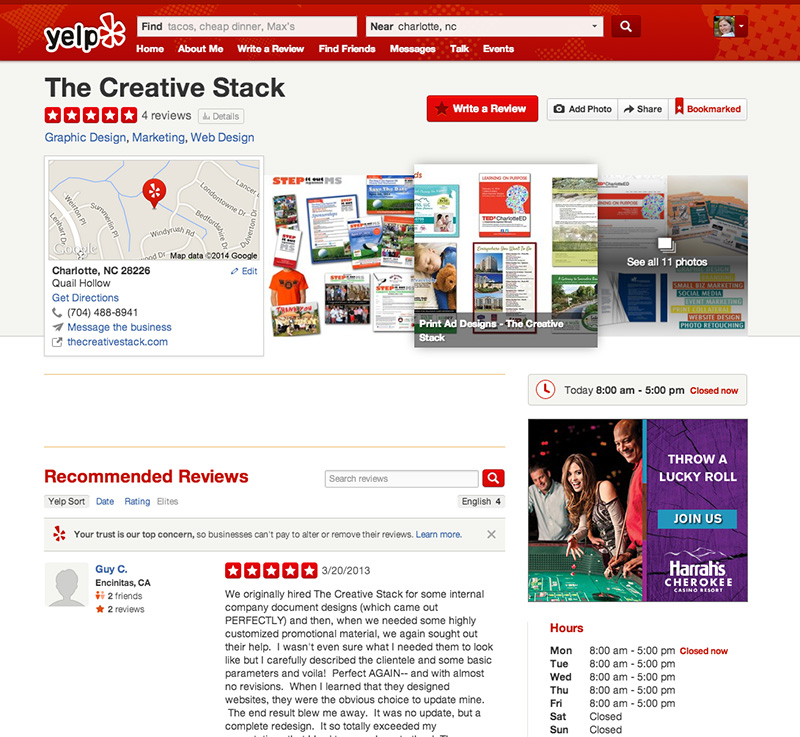 Another thing that is important for Yelp business listings are reviews.  That is what Yelp is all about.  The Yelp tagline is "Real People. Real Reviews."  Yelp aims to connect people with great local businesses and Yelp Business Accounts allow businesses to share information with the Yelp Community. Simply put, it's word of mouth — amplified.
I have had some of my small business owner clients complain about not having control over their Yelp reviews in the past.  But, this is in fact what makes Yelp so popular.  No fake reviews here.  The only reviews that will show up for a business are those of active Yelp users.   You can't ask your mom to go give you a Yelp review (well, unless she is an active Yelp user).  Yelp's review filter system keeps the reviews of businesses authentic and valuable to those searching for online reviews.
I must admit, I wasn't a fan of Yelp many years ago when working for a local business.  We had set up a Yelp profile and asked some of our good clients to go give us a review – and they did.  They gave us great reviews.  And then a month later, they were all gone because they were not real "Yelpers". And then Yelp wanted us to advertise with them and we were like NO WAY!  But….now I get it.
Yelp is a community of people that help each other.  Besides leaving reviews on businesses you have visited, there are local forums to ask questions to the Yelp community, event listings, and even DEALS!  Yep, there are coupons on Yelp.  And you know I love my coupons.  I make it a habit to "check-in" when arriving at a local small business, sometimes a great deal pops up!  (example $5 off, Free Appetizer, etc.)
As a business admin of your page you can add a deal or check in offer, respond to reviews left for your business, track visitors to your Yelp page and see how many clicked thru to your website.  There is paid advertising with Yelp too – which will help you get found even more.  Advertising or free listing – both are great for small businesses.
I have some great reviews on my Yelp business page.  Not only does this help people searching for "graphic design" "website design" "marketing" in Charlotte click on my business profile, it also helps people find The Creative Stack on search engines like Google.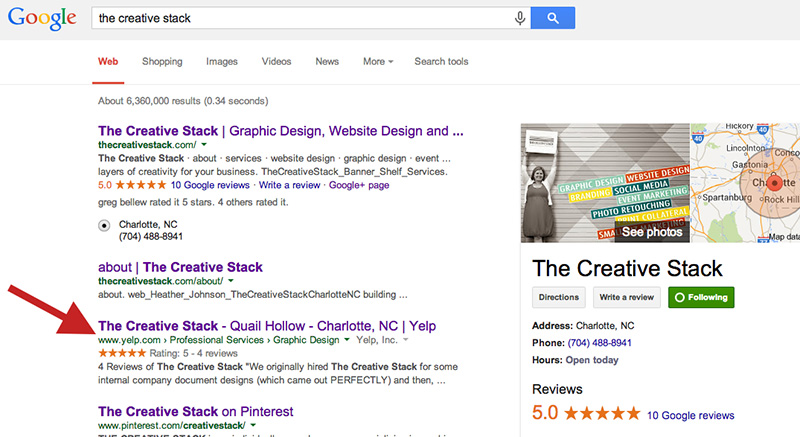 If you google "The Creative Stack" you will see the Yelp link pop up right on the first page of Google showing off my 5-star reviews.  You can bet this grabs people's attention.  Who doesn't love 5-stars!  I have been getting lots of great referrals from Yelp lately.
So, now I have professed my love for love for Yelp.  And hopefully encouraged you to get your business listed on Yelp ASAP!
Have more questions?  Check out Yelp's FAQs for business owners – https://biz.yelp.com/support/common_questions